Hardeman and Moorespeed Rebound from Saturday Spin to Earn Solid Championship Points Sunday in No. 19 CAG/Moorespeed Porsche GT3 Cup
LEXINGTON, Ohio (May 6, 2018) – Will Hardeman and Moorespeed rebounded for a fourth-place finish Sunday at Mid-Ohio Sports Car Course to gain some solid championship points for the No. 19 CAG/Moorespeed Porsche GT3 Cup team's season-long campaign in the 2018 IMSA Porsche GT3 Cup Challenge USA by Yokohama.
Shaking off a spin late in Saturday's first race of the weekend's doubleheader, Hardeman started fifth in Sunday's final 45-minute sprint and improved one spot by the checkered flag.
"I think today was just a result of us getting back on track and making the most of our starting position," Hardeman said. "We were in the hunt, the pace was good and the car was good. We were well setup and I improved some of my lines a little bit, so the overall package and result was satisfying yet modest."
Hardeman was running with the leaders and battling for the top five when he spun off course in the late stages of the Saturday race.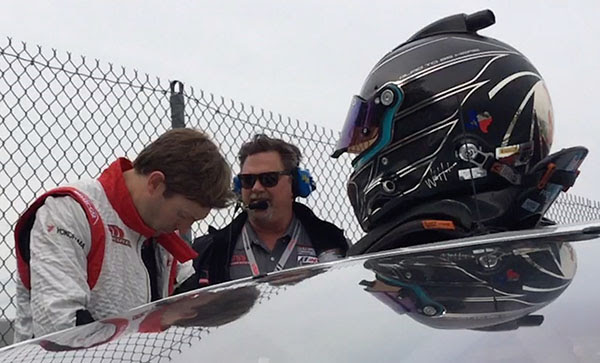 "I'm really proud with the way Will performed today," said Moorespeed President David Moore. "We worked on some things yesterday evening and again this morning and it paid off. The main thing was to minimize the damage from yesterday. We only got 16 points, so we fell back a little bit, and we knew this track is hard to pass on."
On Sunday, Hardeman stayed in even closer touch with the leaders and kept the pressure on at the front of the field to the end. He moved up in the order when the driver just in front of him spun in the same exact spot on the 2.258-mile circuit where Hardeman went off course on Saturday.
"The competition is really stiff this year," Moore said. "You saw it today in the race, you had five cars, then four cars, all the way through to the end that really had a chance and all were on pace. We have a little bit of work to do, but I'm really pleased with the performance, we gained a position, and we're still in the hunt."
With the first six races of season in the books, a full 10 rounds remain in the 2018 IMSA Porsche GT3 Cup season. Next up is a doubleheader at Watkins Glen International, June 28 – July 1, the upstate New York circuit on which Hardeman and Moorespeed finished second last year in IMSA Porsche GT3 Cup competition.
"We just have to keep up the work for Watkins Glen," Hardeman said. "We know we've got pace, I just need get up there and contend with the leaders. The way that I prefer the setup to be is probably going to be more advantageous, so we'll see what we get when we get there, but traditionally we've been pretty strong at Watkins Glen with the way I drive and the setup I like."